Preview of the July 1st crop of free agents
Timothy March
Since I'm sure many of you are as excited as I am about the NHL's annual signing day. I thought we would take a look ahead to what awaits us on July, 1st 2011. Understandably, there are far too many to talk about, so let's take a look at the big names . Also, we will be looking at the unrestricted free agents. You know, the fun kind!
For a list of the entire free agent class in 2011, click here
Let's get started shall we?
First a look at the available forwards.

Brad Richards, Dallas Stars $7.8 Million cap hit this season. Probably the most notable free agent of this year's class, Richards will be highly sought after. His cap hit will likely remain around the same number. So no, Flyers fans, there is no way he will end up here. Likely suitors will have large pocket books and be willing to spend money on a question mark. Richards was sidelined with a concussion late in 2011. He is hoping to make a full recovery, but there will always be that dark cloud hanging over his name. Look for Dallas to make a strong push to keep him. However, I see Richards reuniting with former Lightning coach John Tortorella in New York.
Erik Cole, Carolina Hurricanes $2.9 Million cap hit this season. Erik Cole will be a welcomed addition to any team that signs him. The 33 year old Cole has speed to burn and the skill to go along with it. Actively courted by the Flyers at this years trade deadline, I am sure Cole is on their radar. If Ville Leino gets too pricey, the Flyers might take a look at landing Cole. You will see a strong push from Carolina to hang on to the gritty forward. You never know. He could end up somewhere else.
Ville Leino, Philadelphia Flyers $800,000 cap hit this season. Leino was very close to being signed by the Flyers mid-season in 2011. That was before the trade that brought winger Kris Versteeg to Philadelphia. Kris had a hefty price tag at $3.2 million. Many have said that this trade spelled the end for Leino in Philadelphia. Rest assured my Flyers bretheren, Paul Holmgren will do what it takes to sign the Finnish winger, as long as his price tag doesn't get too high. Therein lies the problem. Leino certainly proved his playoff worth, and there will be several teams willing to pay the price. Will Leino take the home town discount or look to make a splash in the market? Only time will tell.

Tomas Fleischmann, Colorado Avalanche $2.6 Million cap hit this season. After being traded from Washington, Tomas came in to Colorado and absolutely lit the world on fire. He was going at over a point per game clip until he had to hang up the skates with a blood clot in his lung. He is scheduled to be ready to go for the '11-'12 season. Given the nature of the condition (pulmonary emboli) his stock might not be as high as it previously was. Tomas could be the sleeper signing of this years free agent class. Look for Colorado to try to hang on to the young and talented centerman, but not without a fight.
Simon Gagne, Tampa Bay Lightning $5.25 Million cap hit this season. Of course you knew I couldn't let Gagne slide by without bringing him into this ordeal. Gagne played in 63 games this season netting 17 G and 23 A for 40 points. Well down from normal Gagne-like numbers. Could this be the last season for the injury prone winger? Or maybe, just maybe will he give it another shot? You know he always did look good in orange and black. His cap hit will be drastically lower than it was this year. Making him rather affordable. Whether or not we make a play for him remains to be seen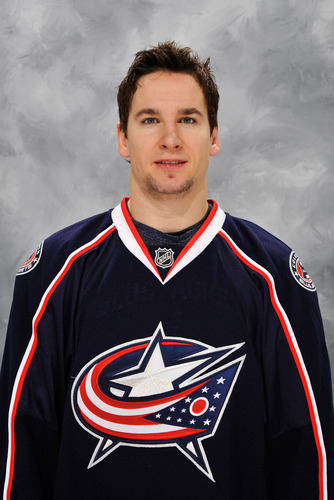 Scottie Upshall, Columbus Blue Jackets $2.25 Million cap hit this season. Giddyupshall will likely be testing the free agent waters this July 1st. Columbus isn't exactly the social center of the universe now is it? Scottie never did get over the fact that the Flyers traded him to Phoenix for goal scoring dynamo Daniel Carcillo. Upshall loved Philadelphia and Philadelphia loved him. His career, marred by injuries over the past few seasons, have left many question marks if the undersized winger can keep up his physical style of play. This tends to lower the value teams are willing to sign for. Will Upshall end up back in the city of brotherly love? Doubtful. But a boy can dream, can't he?
Jamie Langenbrunner, Dallas Stars $2.8 Million cap hit this season. Nearly a Flyer at the trade deadline, Langenbrunner was shipped to the Dallas Stars. A very disappointing season for Langenbrunner saw him net just 9 G in 70 games played. The 35 year old winger can still bring value to any team he winds up with. A natural leader, Langenbrunner had worn the C in New Jersey before being traded. Although his better years are certainly behind him, Jamie would add immediate value to any locker room.
Nikolay Zherdev, Philadelphia Flyers $2.0 Million cap hit this season. Oh the enigma that is Nikolay Zherdev. There is nothing like the wake up call of being placed on waivers only to realize nobody wants you. Zherdev came crawling back, hat in hand, to the Flyers organization that took a chance on the tumultuous winger in the first place. After being humbled tremendously Zherdev played extremely well down the stretch for the Flyers. With the cap situation the way it is, look for Zheredev to walk. If I were to venture a guess I would say he signs with someone in the NHL. Likely for around the same price.
There are several notable defenseman that are up for free agency this July as well. Let's take a look at some of them.

Tomas Kaberle, Boston Bruins $4.25 Million cap hit this season. Kaberle was very highly sought after this trade deadline. After being trade bait for many seasons, the Leafs finally pulled the trigger and dealt him to the Boston Bruins. Kaberle's playoff performance to date has been extremely lackluster. If anything it is hurting his stock in the upcoming free agent pool. Look for someone to sign him for a big number on July 1st. If Boston won't pony up the bucks, I'm sure New York will. They love to throw tons of money at free agents who have question marks. I expect Kaberle to trade in black and gold for a more familiar blue. Just not Toronto blue, but broadway blue.

Kevin Bieksa, Vancouver Canucks $3.75 Million cap hit this season. Kevin is one of those players that you hate if he's against you, but would love to have on your team. Bieksa plays an in your face style of defense and logs a ton of minutes for the Canucks. He is one of four unrestricted free agents in the defense corps of Vancouver. Hopefully for their sake they can bring home the cup. It could be a long offseason for them if they don't. I don't see him going anywhere, but that's why they have free agency. He could land anywhere. Just don't expect it to be anywhere near us.

Joni Pitkanen, Carolina Hurricanes $4 Million cap hit this season. Former Flyer Pitkanen seems like he has been in the league forever. Still in his prime at 27, Joni could be looking for a substantial hike in his pay grade. Something that Carolina is likely to not give the young Finn. He will likely test the free agent waters and make a splash. I'm not sure where he will end up, but rest assured whoever gets him will be plenty pleased with their new acquisition.

Hal Gill, Montreal Candiens $2.25 Million cap hit this season. Montreal likely won't bring back the 35 year old Gill. Look for him to land with a solid team with a one or two year deal. Not exactly fleet of foot, the older Gill is looking at a lesser role with reduced minutes. However, he can still be a very effective 4 or 5 defenseman in a shut down role.
And now, the main event. What you've all been waiting for, the unrestricted free agent goal tenders.
Ilya Bryzgalov, Phoenix Coyotes $4.25 Million cap hit this season. Bryzgalov has already publicly stated that if asked to move to Winnipeg his answer would be nyet. Revealing himself to be more of a prima donna than first believed, Bryzgalov will likely be yelling "show me the money" louder than Rod Tidwell. The only question will be can he bring the "kwan". It has already been said that Ilya has been negotiating with teams in his native Russia. I see this getting uglier than Lady Gaga's wardrobe. The bad part? The Flyers need a goalie and "Bryz" is likely one of their targets. We will see how it plays out, but don't expect Bryzgalov to go down without a fight, or cheaply.

Thomas Vokoun, Florida Panthers $5.7 Million cap hit this season Stop me if you've heard this one. Jeff Carter for Thomas Vokoun? Oh, you have? In my humble opinion I see Vokoun being top target for GM Paul Homgren and the Flyers this off season. Expect Vokoun to fetch top dollar in the free agent market. This would mean the Flyers would have to shed some salary to make him fit. Will it happen? This is why I love free agent signing day. You just don't know. One thing is for certain, the 35 year old likely played his last game in a Panther uniform.
Brian Boucher, Philadelphia Flyers $925,000 Cap hit this season. Brian Boucher has likely played his last game as a Philadelphia Flyer. With the already tight cap situation and two goal tenders, Bobrovsky and Leighton, under contract, Boucher will likely be a casualty of the business. Whether or not another team will want to sign Boucher as a backup for a cap friendly price remains to be seen. My lucky 8 ball says "ask again later" when I ask if Boucher will sign elsewhere. My hockey sense tells me he will. Likely for around the same number.

Jean-Sebastien Giguere, Toronto Maple Leafs $6 Million cap hit this season. Yikes! That number looks rather scary. But don't worry, Giguere won't go for anywhere near that number this year. The main queston is, can Giguere return to his cup winning form? The likely answer is no. But, he can definitely help a team to solidify their net minding situation. That is, if he can stay healthy. Giguere will be a big question mark this offseason. Look for him to go somewhere for a severely reduced price.

Ray Emery, Anaheim Ducks $500,000 cap hit this season. Yes, that Ray Emery. For those of you who don't know, Emery battled back from a career threatening hip injury, overcoming all odds to return to the NHL. A relatively low risk move, signing Emery will be cheap with not a ton of downside. If he gets injured again, you didn't spend a ton of money. However, the upside could be tremendous. There is no question Emery is extremely talented. The real question is can his body hold up to the rigors of the NHL? It's definitely worth a shot to find out. I see him staying in Anaheim with Jonas Hiller's health still a big question mark.

Marty Turco, Chicago Blackhawks $1.3 Million cap hit this season. About the only thing turco did this season was make everyone laugh at the expense of Pierre McGuire. If you haven't seen it YouTube it. It's hilarious. The season, however, was a tremendous disappointment for Marty. He will likely be looking to sign a one year deal and fight for a starting spot. Doubtful he will be back with Chicago, but don't expect Turco to be highly recruited come July 1st.
Well, there you have it. Some of the big names that are scheduled to be UFA's at the seasons end. There is plenty of talent out there to be had. I wouldn't call it the most exciting crop of free agents in recent memory, but it will still be fun nonetheless. Besides, Free Agent signing day is always fun. And if it's boring, you still have Transformers 3 to look forward to!
Obviously, the Flyers main concern this offseason is goal tending. That sounds familiar, eh? I wouldn't expect many of these names to end up in orange and black next season, but there is a high likelihood that a few of them will. Will it be the same old faces, or will there be some new blood donning the flying P logo next year? We will have to wait and see, but I expect it to be fun as usual come July 1st.