Tim March
03/11/11
Well it's getting to be that time of year again where the snow melts away and the sunshine returns to Philadelphia. This means playoff time for our beloved orange and black pack. It also brings us to the age old question in Philadelphia. Which goaltender is going to lead us to the promise land?
All season long fans have been left to wonder who exactly is the Flyers number one goalie? Granted, Sergei Bobrovsky has received the brunt of the work playing in 43 games this season. However, you could make the case that when the chips are down in a big game Boucher has been receiving the nod. So who does Laviolette go with when it matters most?
Well let's see just how deep the rabbit hole goes, shall we?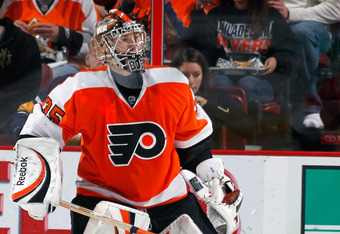 Bobrovsky has been absolutely sensational at times this season. He has put together a very respectable season compiling numbers that are very impressive for a rookie. In 43 games so far Bob, as he is affectionately known, is 25-11-4 with a 2.52 GAA (goals against average) and a .917 SV % (save percentage). Without a doubt nothing to thumb your nose at.
The thing that concerns me, and a lot of other Philadelphia faithful, is the number of games played. Currently sitting at 42 games played, Bobrovsky's career high in a season was a mere 35 with Metallurg Novokuznetsk (gazuntite). This was also in the KHL which is notoriously "softer" than the NHL *cough* Zherdev *cough*.
Now granted Bobrovsky has a workout regimine that would make Manny Pacquiao drool in his Pork Sinigang. And many say that because of that he can keep up this torrid pace. Only time will tell.
Let's dig a little deeper.
Only four netminders have ever won the Stanley Cup as a rookie. Ken Dryden, Patrick Roy, Cam Ward, and Antti Niemi. None of which played more than 47 games in their rookie season. Dryden played in 39, Niemi 39, Ward 30, and Roy was the workhorse with 47. Well that is interesting. The Flyers rookie sensation has already played in 43 and is on pace for 50+. Can he hold up? That is the million dollar question.
Let's explore the alternative.
Brian Boucher, as we all know, has been a solid member of the Philadelphia Flyers for many years. As recently as 2007-2008 Boucher backstopped 43 games in a season with the Philadelphia Phantoms. He currently sits at 25 games played. He too has compiled some impressive stats this season. "Boosh", as Philly fans know him, has compiled a record of 16-8-2 with a 2.44 GAA and a .917 SV %. Again very admirable.
Boucher also has playoff experience. This can come in handy with the playoffs being the animal that they are. In 34 career playoff games Boucher has put together a record of 17-14 with a 2.20 GAA and a .913 SV %. Very solid numbers.
So the question becomes does Laviolette go with an unproven in the playoffs rookie, or a veteran who is battle tested?
If you look at Lavy's history the picture becomes a bit more clear. One of the four Stanley Cup winning rookie's was Cam Ward. His coach? None other than our own Peter Laviolette. He rode a hot Ward, who eventually won the Conn Smythe, all the way to the championship. Does this mean he will go with Bobrovsky?
If last years playoff run is any indication he will go with whoever is hot and
roll the dice. Only time will tell who that will be Bobrovsky or Boucher. One can only hope if it is the younger of the two he can hold up under the bright lights of the playoffs. After a long and tiring rookie season can the young Russian lead us all the way?
Ok. Now you get my two cents on the situation. I lean towards experience. Always have, always will. Boucher has playoff experience. Now you can say what you will about him but he is having a renaissance season. As much as I love Sergei, I don't think he is going to be the starter come playoff time.
I think the grueling NHL season will catch up to our rookie netminder and it will leave us wondering, What if? What if Laviolette didn't start him so many games during the regular season. Honestly, I don't think the answer matters. Boucher is our guy this year. This is his time step up. We are going to witness another magical playoff run from the guy we simply know as,
BOOOOOOOSH!